New iPad Will Feature Dual-Core A5X Processor
Source: http://ipad3newsblog.com
Thursday, March 8th, 2012 at 8:03 pm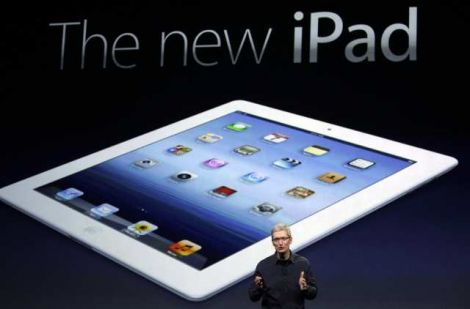 Tim Cook and "The new Ipad"
The event held in San Francisco for 'the new iPad' was met with both curiosity as well as anticipation. Finally, the whole world will get to know what the third-gen iPad had to offer to its users. During the presentation of the device, the Apple executives were referring to the new device as 'the new iPad'. Yes, that seems to be the official name that Apple has given to it,
'the new iPad'
. So, we got to know what the device was going to be called. After that, Apple displayed the
Retina Display
featured in the new iPad and then it went on to give details about the A5X chip in the device.
During the launch, the Apple executives have confirmed that the new iPad will feature the new dual-core A5X processor with quad-core graphics. According to Apple, the new A5X ship has been deemed to be two times faster than the Tigra 3 and the new A5X dual-core processor is capable of providing the new iPad with four times more performance than seen in the Tigra 3.
It was a must that the new iPad have such a powerful processor for the provision of power as the new iPad features a lot new and amazing specs, which needs a good power source to work. The quad-core graphics needed such power, along with the Retina Display of the new iPad which has a million more pixels than a HDTV. Thus, the display of the new iPad is capable of providing users with sharper and more detailed images and videos to see.